A couple of months back I was bumming around on Netflix trying to find something interesting to watch that wasn't like this hyped up TV show that I'd have to sit there and binge watch 5 seasons in order for me to catch up with the current one. Because let's face it, you can't plop yourself into an already running TV series and know what on earth is going on without having to watch the previous seasons.  Anyway. Like I was saying, I'm browsing around on Netflix and came across a show called The Great British Bake Off  they only had series 5 on there, so unfortunately I hadn't been able to see previous series. I am a little sad about that, because, this show is amazing! It's not like any of those other "reality" TV competition shows, this show is all about the baking, and the hostess' are hilarious.
After watching all the episodes and wanting to eat the majority of the things that were made, I decided upon myself that I would try to recreate some  of those items that were made during the series. Again, I am going to recreate some of the foods, because I'm not a pastry chef and I have no idea how to do half the things they did to make those amazing food things.
I'm going to start my recreation of these yummy foods with a chocolate volcano cake because they made this…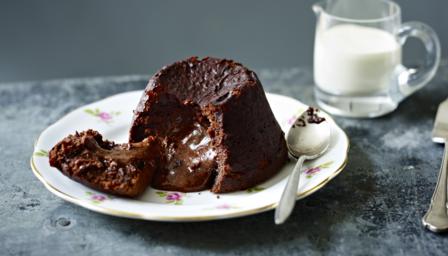 ….and it looked ah-mazing!
The recipe I used I found on the Food Network website, *gasp* I know…it's not from the Great British Bake Off show  but it's totally inspired by it and that's what counts right? 🙂 Really, it's the Pioneer Woman's Recipe, but I found it on the Food Network website and it works either way because you know, she has a show on the Food Network.
Anywho. So this recipe is super duper easy, and you don't need a lot for it either.
You'll want to grab some ramekins or custard cups.
I got these beauties from Wal-Mart. *Gasp* Again, I know, Wal-Mart, but you know what, that store sometimes has pretty neat stuff. Including Ree Drummond's Pioneer Woman cookware. And darn it I'm going to buy as much as I can from her line. She has these ones as well as these cute ones. It appears almost everything that she has is out of stock, which is good and bad. Good for her in that her stuff is selling, bad for me and you, can't get our paws on the items! I will say, one annoying thing about these ramekins is when I bought them they had that cute little label on the inside of the dish, they are a pain in the booty to get out. I mean, whose genius idea was it to put a sticker on the inside of a food container. THE INSIDE. I get it, you have to put the label on there somewhere, but there was already a sticker on the bottom, couldn't you just use that? I mean that one was easy to take off, it was scored for easy peeling. Where as the one on the inside, that was bad. Really bad. Are you listening product making people?  Am I whining about this a little too much?
Moving on.
You'll want to gather, butter, semi-sweet chocolate and bittersweet chocolate, powdered sugar, eggs, flour and vanilla. See, I told you that you don't need a lot for this recipe. Oh, and some cooking spray. That's it though I promise.
My chocolate broke. 🙁
Melty the butta and the chocolates.
Add in powdered sugar.
Add in your eggys and flour. Then mixy mixy!
Pour into prepared with cooking spray ramekins.
Pop into the preheated oven for about 13 minutes. Then…bam!
Yumminess ready to be devoured.
Flip those puppies onto a plate.
Then add in a nice dollop or a generous serving of ice cream.
It was so good, my 5-year-old had that face while eating it like "oh my gosh….woman…this is delicious…. but my tummy is full, and I mustn't go on…but I shall, because it's that good".  Too bad I didn't have a picture to share with you. Maybe next time.
[bctt tweet="Chocolate Lava Cake recipe? Yes please!! "]
Check out the recipe below if you wanna try, and you won't be sorry you did.
Chocolate Lava Cake via Ree Drummond
Ingredients
baking spray, for ramekins
1 stick butter
2 ounces bittersweet chocolate
2 ounces semi-sweet chocolate
1 1/4 cups powdered sugar
2 whole eggs
3 egg yolks
1 teaspoon vanilla
1/2 cup all-purpose flour
vanilla ice cream, for serving
Instructions
Preheat the oven to 425 degrees F. Spray four custard cups/ramekins with baking spray and place on a baking sheet.
Microwave the butter, bittersweet chocolate and semisweet chocolate in a large bowl on high until the butter is melted, about 1 minute. Whisk until the chocolate is also melted. Stir in the sugar until well blended. Whisk in the eggs and egg yolks, then add the vanilla. Stir in the flour. Divide the mixture among the custard cups.
Bake until the sides are firm and the centers are soft, about 13 minutes. Let stand 1 minute. Invert on individual plates while warm and serve with vanilla ice cream.
Recipe courtesy of Ree Drummond
http://newmanscorner.com/chocolate-lava-cake/